As part of my outreach activities I have taken to writing books. I have been writing research papers since 1996, and have written over 50 scientific articles on a number of subjects. It can sometimes be difficult to access the information in research papers written for the science community, and that's where books come in 🙂
Writing books helps to communicate some of my knowledge to a wider audience and I hope you fine them useful and interesting. I have started with books involving igneous rocks and volcanoes, and will soon be expanding into other areas of the Earth Sciences.
Please see a selection of current books below. Simply click an image to view more detail.  If you order a book directly from DougalEarth, then you get a copy signed by the author!
A note on https – My shopping pages don't have https because you won't be entering card details until you proceed to Paypal (or Amazon).
You have a couple of options to purchase my books:
Unsigned Books …
If you want an unsigned book, then please use the following direct links to Amazon or Paypal (for Victor) below: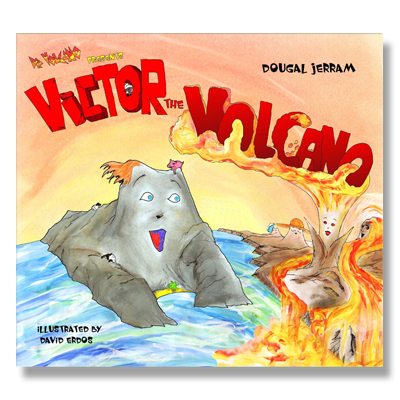 Victor the Volcano (not signed)
This is the first book in the Dr Volcano series for children 🙂 It is a story about an island that wants to be a volcano. It also contains some educational material about volcanoes (for ages 4-9).
Purchase direct using Paypal (no account needed)
Introducing Volcanology (not signed)
Their eruptions are a regular reminder of the power of nature and our vulnerability to this raw geological phenomenon, however volcanic activity, and its plumbing from beneath, is an essential element of the forces that shaped and constantly reshape our planet.
Purchase direct through Amazon…
The Field Description of Igneous Rocks (not signed)
This book provides an essential field guide to igneous rocks, as well as the key elements needed to describe and document igneous/volcanic rocks in any setting. In full colour with easy to use colour coded subsections, and a handy pocket size for field use.
Purchase direct through Amazon…
Signed Books …
If you want a signed copy, then please select the book you would like below, enter your country on the shipping calculator, then go through checkout with Paypal – you don't need to have a Paypal account to use your card.
IMPORTANT!  To include a message on your signed copy, please click on the 'Shipping Address' and add your message in the box called 'Order Notes'. I will include that on your new book. If you forget, then I will email you to check.