New Just Arrived  !!!!
Introducing Volcanology 2nd Edition
DougalEARTH limited edition copies.
This is the updates 2nd edition of my popular 'Guide to Hot Rocks'. I have had a limited edition done especially for DougaEARTH, and you can get a personalised signed copy, simply follow the buy now button (don't forget to add a personal message). I will aim to get it signed and off in the post to you as soon as I can.
Purchase a personalised signed copy of:
Introducing Volcanology: A Guide to Hot Rocks
DougalEARTH Limited Edition.Select country and follow payment instructions
(don't forget to add a message)
As part of my outreach activities I have taken to writing books. Writing books helps to communicate some of my knowledge to a wider audience and I hope you fine them useful and interesting. I have started with books involving igneous rocks and volcanoes, and will soon be expanding into other areas of the Earth Sciences.
Please see a selection of current books below. Simply click an image to view more detail.  If you order a book directly from DougalEarth, then you get a copy signed by the author!
A note on https – secure shopping is guaranteed as you won't be entering card details until you proceed to Paypal (or Amazon).
You have a couple of options to purchase my books:
Signed Books …
If you want a signed copy, then please select the book you would like below, enter your country on the shipping calculator, then go through checkout with Paypal – you don't need to have a Paypal account to use your card.
IMPORTANT!  To include a message on your signed copy, please click on the 'Shipping Address' and add your message in the box called 'Order Notes'. I will include that on your new book. If you forget, then I will email you to check.
Victor is an island in the Mediterranean Sea with high hopes. He wants to be a volcano and burst with fiery pride, but how? He must go on a journey of discovery to find out the secrets of how volcanoes dance and sing.
This tale follows Victor on a colourful and explosive journey that introduces children to the wonderful world of volcanoes and where they are found. Author Dougal Jerram, a Professor in Volcanic Rocks, has used his expertise and passion to bring volcanoes to life for young children. The learning pages in the back of the book include a map of the world showing the continents where the volcanoes that are featured in the book are located and the Inside the Volcano explains the internal workings of a volcano. A great story with a valuable education message for children and a useful guide for both parents and teachers.
Purchase a personalised signed copy of:
Victor the Volcano.
Select country and follow payment instructions
(don't forget to add a message)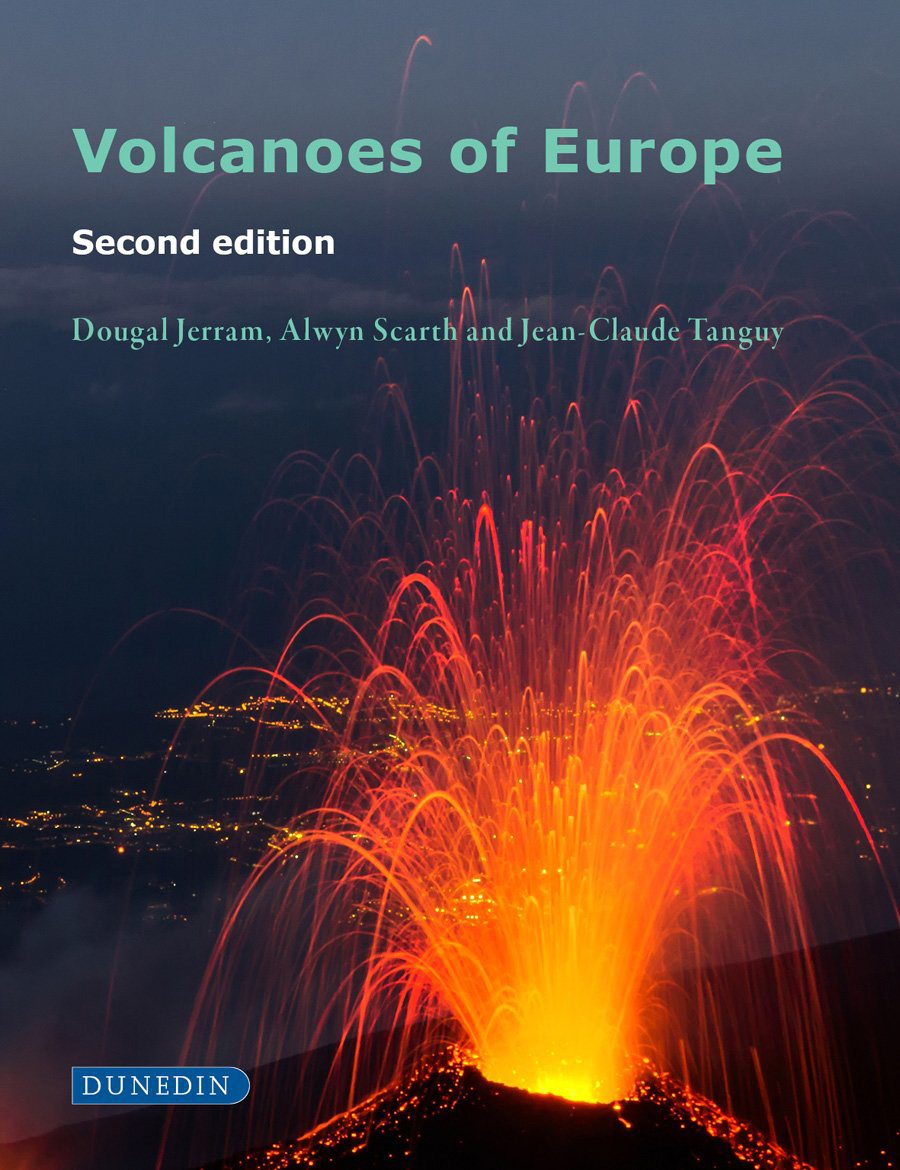 Volcanoes of Europe
Second edition in full colour 🙂
Volcanoes are intimately tied to the history of humanity, they help forge the Earth's crust and atmosphere, and they are very much an active feature of today. The archaeology of most ancient civilizations of Europe preserves the imprint of spectacular and volcanic phenomena while, in modern times life is still affected by large eruptions from Europe's active volcanic systems. This thoroughly revised and updated edition reflects modern research and is now illustrated in colour throughout. It presents the volcanoes of Europe, as they are today and tells how they have shaped our past.
Purchase a personalised signed copy of:
Volcanoes of Europe
Select country and follow payment instructions
(don't forget to add a message)
Unsigned Books …
If you want an unsigned book, then please use the following direct links to Amazon or Paypal (for Victor) below:
Victor the Volcano (not signed)
This is the first book in the Dr Volcano series for children 🙂 It is a story about an island that wants to be a volcano. It also contains some educational material about volcanoes (for ages 4-9).
Purchase direct using Paypal (no account needed)
Introducing Volcanology (not signed)
Their eruptions are a regular reminder of the power of nature and our vulnerability to this raw geological phenomenon, however volcanic activity, and its plumbing from beneath, is an essential element of the forces that shaped and constantly reshape our planet.
Purchase direct through Amazon…
The Field Description of Igneous Rocks (not signed)
This book provides an essential field guide to igneous rocks, as well as the key elements needed to describe and document igneous/volcanic rocks in any setting. In full colour with easy to use colour coded subsections, and a handy pocket size for field use.
Purchase direct through Amazon…